Shopify – Pros and Cons
Deciding on the right platform for your website doesn't have to be difficult. Today, we'll look at Shopfiy to see how it stands up to the microscope.
I'll keep this brief, but let's say you're a small to mid sized business and want a new website, but you don't want to spend $30,000 to build it. There are many companies (like ours) that specialize in servicing this market. We are a U.S. based company with NO FOREIGN DEVELOPERS so we think we fill a niche.
Part of the process is evaluating our client's needs. Before a client decides on what platform is right for them, they need to ask themselves a few tough questions:
Do you want something really custom, flashy and over the top (ex. www.monsterenergy.com)? If the answer is "yes," hire a big ad agency and go for it. Budget around $30,000 to $75,000+.
Do you prefer something that looks professional but allows YOU the capability to make your own edits, changes or modifications using a simple administrative tool? If the answer is "yes," you're a good candidate for any number of off-the-shelf, open-source Content Management Systems (or "CMS').
One of the more popular CMS' is "Shopify." It's an open-source platform that is very popular with fashion companies (for one) for a variety of reasons.
What is Shopify?
A popular online store builder like Shopify could prove to be your ideal partner for fulfilling your online business goals. If you have been active online and have been reading about eCommerce, you would have definitely read about Shopify or seen its advertisement on some website or even on Facebook. This company has gained in popularity recently and is regarded as one of the easiest eCommerce store builders around. It offers you a comprehensive tool set with which you can build your site without any technical skills.
Shopify Company Background
The company was established in around 2006 and is headquartered in Ottawa, Canada. They started out as a team of five people and today the firm has more than 500 employees working across four different offices in Canada. Another notable thing about their history is that the first online store they built was for their own business which was created to sell snowboard equipment. In the last decade, this company has served more than 175,000 successful merchants and thereby proved its capability as a leading global eCommerce solution provider.
It has offered an ideal platform for businesses to focus on what they are best at: creating new products and selling them. The rest of the stuff related to online selling; order management, payment gateways and so on is handled by the Shopify tool.
Shopify Customer Support Service
When you are doing business online, any kind of issues or unwanted downtimes for your website can lead to some losses as well as customer dissatisfaction. So, it is obvious that you would want to get a reliable support from the website builder team that you choose. With Shopify, you get the best possible customer support at any time of the day. They literally mean it when they claim that they are available to you 24×7. You can get in touch with the Shopify support staff for any technical issue or website-related problem via email, live chat or telephone. If that was not enough, they also offer four different international phone numbers on which you can call them, depending on your region. This is done to make sure you receive their support without any delays while considering the different time zones. So, you need not worry about going through technical troubleshooting guides to resolve an issue. You can simply rely on their customer support team to resolve your issue in time, without causing any major impact to your ongoing online business. Of course, they also offer you access to a small set of the most popular questions that get frequently asked by users about the Shopify tool.
Shopify User Interface
This tool tries to keep it really simple with a basic user-friendly interface. Once you look at a few demo videos on how to use the Shopify tool for the first time, you will find it to be a piece of cake working with it. The fact that you do not have to learn any coding or use your existing programming skills will make you like its user interface even more. This holds true as long as your aim is to build an online store and not to build any other kind of website. The Shopify tool's interface may not give you much flexibility for customisation as far as other non-commercial websites are concerned.
If you plan to use a third party for distribution and fulfillment of your shop products, Shopify can integrate very well with ERP and CRM systems using various APIs and interfaces. This is very good for large stores where you may be shipping items globally to and from a variety of warehouses or locations. You can even set up front end sites for a variety of locations, say China, Europe and USA, where you may wish to use different currencies, shipping and tax rules. All front ends can be managed from one backend for inventory. There are lots of Shopify and third party apps that you can plug in to handle any type of eCommerce business.
Shopify has a team that are happy to work with developers from your chosen fulfilment and distribution companies where applicable to implement this type of solution if required, handling the technical stuff so you can focus on managing your business.
Shopify Templates and Website Design
You can access the Shopify Theme Store to check out their wide range of professionally and well-designed site templates. This store has more than 100 premium themes (paid ones as well as free ones) that you can use to dress up your website in a great way to leave a long-lasting impression on your customers.
The paid themes vary in price from around $80 to $180. If you wish to make your website stand out and get potential customers to spend more time looking around your site, then it is worth spending money on the paid themes. Also, it is just a one-time investment for your site that could potentially give you great sales in the future.
Another notable thing about Shopify is that professional designers are allowed to come up with their themes and sell it on this platform. The Shopify team verifies these templates and ensures that they are all compatible with the sites built using the Shopify online store builder.
As part of website building, Shopify also offers the standard What You See Is What You Get (WYSIWYG) page editor. It allows you to add basic elements, such as images and text.
However, to be able to add complex elements, for example, forms and Google Maps, you will have to dig into the code and use some programming skills. There is no form builder and so if you want to have a Contact Us form on your website, you need to use a theme with the contact template.
If your theme does not offer a contact template, you will have to get someone who can handle HTML and CSS coding in order to fulfil this requirement.
It also offers a blog manager to handle basic blog creation requirements, such as tags, authors, categories and publish dates. So, from the point of view of a website builder, Shopify does have its set of limitations. But, this fact is clear to all as Shopify itself has always been marketed as only an online store builder.
Visit this page if you are looking for more Shopify theme ideas.
Shopify Website Responsive Design
Most of the themes offered by Shopify for your website are already mobile friendly. So, you need not worry about getting your site converted separately into a mobile-responsive one. Many online store websites find it difficult to offer a mobile-friendly interface to their customers. However, with Shopify, you get a mobile-responsive store, with built-in mobile eCommerce shopping cart features, which is bound to enhance the mobile shopping experience of your customers. When your products can be purchased on the go from a mobile phone, your sales are bound to improve consistently. You would not wish for more as a business!
ECommerce Features of Shopify
Everything about Shopify is for commerce. Your online shop can be integrated with more than 70 different payment gateways for seamless credit card transactions. This is way beyond what you can expect to get from any other website builder.
The payment processors offered further allow you to accept different currencies. It empowers you to set up online accounts for customers who frequently buy from your store for a more convenient shopping experience.
You can also manage your eCommerce portal from a mobile phone and you can even give limited access to your staff for your online store account. In this way, your staff can handle daily activities like order tracking and inventory management.
In addition, you can showcase your products in several categories which make it easy for the products to be identified by the right kind of customers.
Additionally, you can sort your customers according to their locations and the amount of money they spend on your products. This helps you understand their spending patterns and product choices. Thus, you can prepare better business marketing strategies for different types of customers.
An important aspect of the Shopify tool is that it gives you access to a vast pool of plug-and-play apps (more than 1,000 different paid and free apps). You can extend the functionality of your online store and automate different business processes using apps from the Shopify App Store. For example, you can use the Yotpo app to write social reviews of your products, use TradeGecko for managing your product inventory and so on.
You can also make use of Shopify's Point of Sale (POS) system to integrate your entire offline sales system with your online store which you have created using Shopify. Thus, you can even make your physical store's customers browse through your vast product catalogue and handle their credit card transactions seamlessly.
Shopify finally allows you to sell your products directly on social media sites, including Facebook and Pinterest, with a suitable "Buy Now" button.
Shopify Website Builder Plans and Pricing
Shopify does not offer any free plans which is totally understandable. With the kind of eCommerce features that you get, it cannot be possible for any site builder tool to offer a free plan. For all the paid plans, you get access to the following common features:
POS system
Shopify buy button
Facebook
No transaction fees
Unlimited number of products
Manual order creation
Unlimited file storage
Free Trial
While Shopify do not offer a free account, they do offer a 14 day Free Trial. For the trial, you don't need to enter any payment details and it gives you a chance to test it out, build your products and get used to the functionality to make sure it is right for you before you buy. If you decide to launch your store at any time during the trial, you need to select and purchase a plan. Otherwise you will only need to buy a plan at the end of the trial if you decide to continue. Following the trial you can choose any of the plans on offer.
Shopify Lite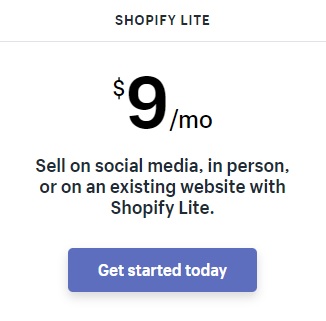 Shopify lite is an option for those that already have their website set up and wish to add eCommerce functionality as essentially an 'add on', or for those that wish to monetise their Facebook and sell from there. You get some of the core functionality, such as the ability to take payments, to showcase and sell products from a Facebook shop, or chat and track orders. What you don't get is the ability to build your store with this package. Shopify lite can plug in to any existing WordPress site or Tumblr, or many more where you have an audience and the desire to monetise your products. You don't get the full package with Shopify Lite, but you do get enough to add decent eCommerce to a pre-existing site/store environment.
The Three Core Shopify Plans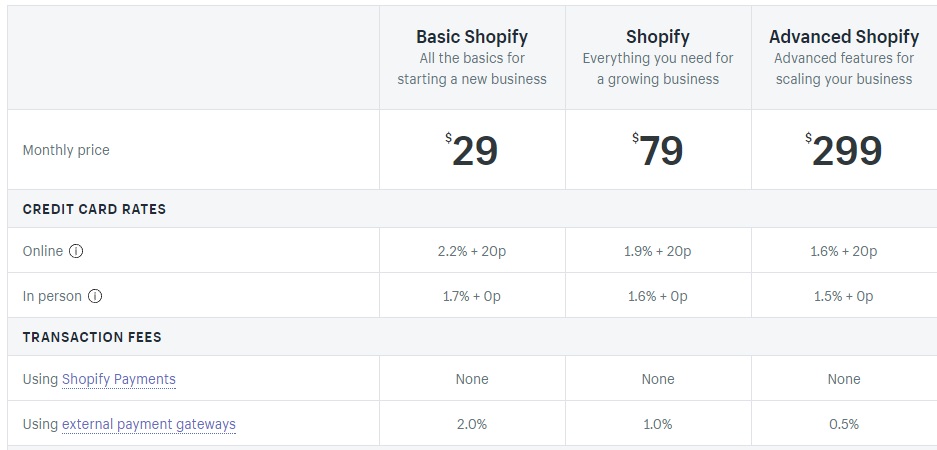 Basic Shopify
With the basic Shopify package, you get an 'off the shelf' eCommerce solution that may be basic compared to other Shopify packages, but it is by no means basic in terms of ability. With this plan, you can create 2 staff accounts so 2 people can be logged in individually at any one time. Perhaps one person handling orders and another updating products. You also get unlimited storage and bandwidth and can post unlimited products in your store.
The package allows you to build your website or blog, to use discount codes for products and to create orders manually. This is particularly good if you have customers that want to order via phone or other means rather than directly from the site, or for upselling on the phone.
In terms of security, there are payment and fraud analysis tools built in, and of course SSL certificates are part of the deal. Shopify also provide 24/7 support for you and your store. Not bad for a basic offering. There are different credit card rates for each of the packages, and for whether the customer is paying online or in person If you decide to use Shopify Payments as your payment gateway then they do not take a transaction fee, but if you use a third party such as PayPal then there is an additional payment fee. The fees are displayed in the image above.
Lastly, if you have a physical store, Shopify offer a retail package on all plans for an additional $49. This can help you to manage staff, hardware such as barcode scanners and tills, and also your POS system. The basic package will cost you $29 per month. All prices are on a month to month contract basis, but if you decide to take an annual or biennial subscription Shopify discount these at 10% and 20% respectively.
Shopify
This is the standard Shopify plan, and suggested for businesses that want to grow. It will set you back $79 per month for a monthly subscription, again with a 10% or 20% discount if you decide to take an annual or biennial subscription.
With the Shopify plan, you get all the benefits of the Basic Plan, but with a few additional features. Firstly, you get 5 staff accounts rather than the 2 with Basic. You can offer and apply gift cards and get functionality for recovering abandoned carts. The abandoned cart recovery is great for pulling back in some lost potential revenue where a customer has filled a basket but not completed the payment process. This can happen for a variety of reasons and what this feature does, is sends out an e-mail where one has been collected, allowing the customer to click a link to re-enter their checkout and complete the transaction. Sometimes people are impulsive and need a bit of time to cool off before they are ready to commit to the purchase. This allows them to easily do that.
In addition to these features you also get professional reports. Great for helping you track stock, revenue, popular items, projections, geographical hot spots and more. You also benefit from a smaller credit card % rate than you get with the Basic Plan.
Advanced Shopify
This is the flagship of Shopify's 'off the shelf' eCommerce solutions. Coming in at $299 per month, again Shopify offer a 10% discount for annual subscriptions or 20% for biennial subscriptions. You get everything from the Shopify package, with an increased capacity of some features and the addition of a few extra key features. With Advanced, you get 15 staff accounts so you can have a whole team operating your store in a variety of capacities. You get far more preferential credit card rates and transaction fees than on any of the other packages. One of the main key features is the addition of third party calculated shipping rates. This is particularly important if you use a variety of couriers for shipping your goods. You may use FedEx for domestic shipping, and DHL for international for instance. You may also use different shippers for track and trace or signature required orders. This tool allows you to show calculated rates through different couriers, depending on any agreements that you have in place with these couriers.
The other extra feature that you get with the Advanced Plan is an Advanced Report Builder. Great for building a variety of dashboards and reports for different areas of the business. Low level and high level reports tailored for different audiences. This plan is for businesses that need flexibility and scalability.
Shopify Plus
Shopify Plus is Shopify's Enterprise level solution, tailored specifically for each clients needs. As such the pricing is not published as it will differ greatly from client to client depending on the scope of the solution. This type of solution is for large businesses with a global footprint. Businesses where volume is high and a little more support, development and functionality is required and an off the shelf solution just isn't enough.
The table below compares the features and pricing of the four off the shelf Shopify plans:
 
Price
Gift Cards
Fraud Analysis
Professional Reports
Other Features
Lite
$9 mo.
No
No
No
·        No website, blog or online store

·        Start directly on Facebook

Basic
$29 mo.
No
No
No
·        Start with a website, blog, online store and even Facebook

·        Ability to create discount codes

Shopify
$79 mo.
Yes
Yes
Yes
The same as the Basic plan's features along with the Abandoned Cart Recovery tool (discussed in the advantages section below)
Advanced
$299 mo.
Yes
Yes
Yes
Same as the Shopify plan's features along with the real-time carrier shipping and advanced report builder
Shopify Website Builder Advantages
You can enjoy a free 14-day trial of Shopify without sharing any credit card details to check out its features.
You are entitled to use Shopify's Abandoned Cart Recovery tool with their Pro and Unlimited plans. This allows you to automatically keep track of customers who added any of your products to their shopping cart and entered some check out details, but were unable to complete the process due to some other urgent work or distractions.
With this feature, your customers are reminded via emails about their pending shopping carts and a direct link to their carts is shared with them. This helps your customers complete the shopping process from where it was left off.
This tool helps to set up default tax rates for your site, relieving you of any tax worries while selling across borders.
It also offers its own payment gateway which is known as Shopify Merchants. This is completely integrated with the Shopify admin and the tool is thus able to offer you the advantage of zero transaction fees.
Shopify Website Builder Disadvantages
It is impossible to customize the structure of your website's template without touching the code. THIS IS A HUGE PROBLEM THAT WILL COST YOU MONEY LATER. Also, you may need to hire a "Shopify expert" to do any customization because code changes involve handling Shopify's own programming language (Liquid), in addition to HTML and CSS.
You may find the plans offered by Shopify expensive. Additionally, you may also have to add the costs incurred for using the paid themes and paid apps.
CONCLUSION
If you are looking for a website builder tool for a professional blog or for non-business purposes, then Shopify may not be the best option for you due to some limitations.
However, it is easily one of the best eCommerce site builders available in the market. You need to understand that it is pretty complex to get an eCommerce set up and Shopify does this very easily.
Of course, the quality it offers comes at a price. But then again, it could potentially turn your business into a money-minting source.
We hope that the above Shopify site builder review helps you make an informed decision.